Welcome to Hotel North Shiga.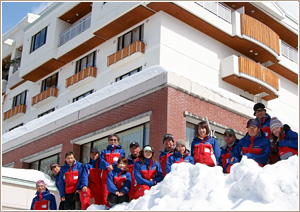 Hotel North Shiga is located in Ryuo of Kita-Shiga in the northern part of Nagano, which lies at the center of Japan. Here in Ryuo you can see a variety of natural beauty throughout the year—silvery white winter, summer in deep green, and autumn with fiery colors—we welcome you to come and experience the rich nature that surrounds our hotel. Besides the wonderful nature, there is also the famous snow monkeys that take hot spring bath around here, as well as having Shiga Kogen, the venue for the 1998 Nagano Winter Olympic Games, within one-hour's drive.
Our hotel boasts great scenic views in the tranquility provided by the surrounding mountains. Guest rooms are of either western style (with bed, bathroom, and toilet) or Japanese tatami-mat style. The grand public baths for men and women at the top floor of the hotel also provide a breathtaking scenic view.
Our staff members also undertake English classes to ensure they can communicate with foreign guests and make them feel at ease while staying with us. Come and stay at Hotel North Shiga when you visit Nagano.